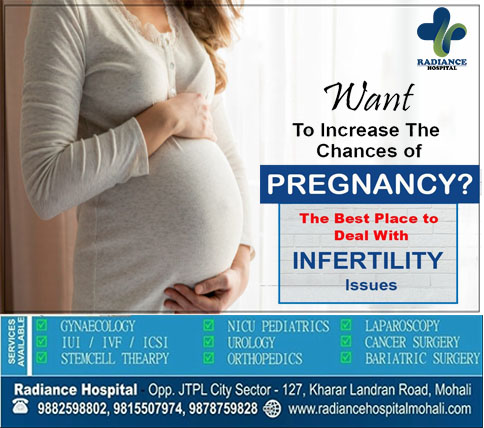 Infertility is defined as not having turned out to be pregnant following 1 year of having regular sexual intercourse without the utilization of conception prevention. When you are facing fertility issues and unable to conceive, you must visit a fertility specialist. Radiance Hospital Mohali, Kharar provides the best infertility   treatment in Mohali. Dr. Rimmy Singla is one of the best infertility specialists in Kharar, Mohali. She is a senior consultant infertility specialist, Gynecologist and Obstetrician, IVF Specialist.  Dr. Rimmy Singla is a renowned infertility specialist in India with 20 years' experience in ART (Assisted Reproductive Technology). She treats both Male Infertility & Female Infertility treatments in Mohali, Chandigarh.
Dr. Rimmy Singla provides the best IVF/infertility treatment in Mohali. She offers the affordable and best IVF treatment in Mohali within your budget.  Radiance Hospital is the best IVF hospital in Mohali.
Dr. Rimmy Singla is capable of handling high risk pregnancies and infertility issues. If you are searching for best Infertility specialist in kharar Mohali, then consider Dr. Rimmy Singla and she conducted 100s of gyne surgeries successfully.
#bestinfertilityspecialistsinkhararmohali #bestivfhospitalinmohali #bestivftreatmentinmohali #bestivfinfertilitytreatmentinmohali #ivfspecialist #bestinfertilitytreatmentinmohali