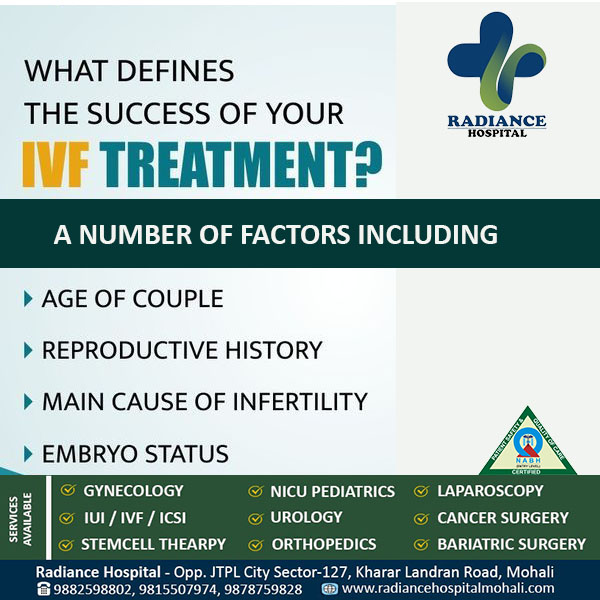 What is an IVF (In-Vitro-Fertilization)?
IVF is also known as the test tube baby technology. It is the leading technology to tackle the demon called infertility. This procedure is carried out when a women egg doesn't get fertilized by man sperm naturally. It is an assisted reproduction technique (ART) which is most commonly used to treat infertility. During this procedure, an egg is fertilized outside the woman's body in a laboratory ,then the fertilized egg is implanted in a women's uterus. For couples who are facing the difficulty to get pregnant, IVF offers a ray of hope.
Radiance hospital Mohali is as one of the best IVF centre in Mohali . It is equipped with team of renowned infertility specialists and highly skilled medical staff. Radiance hospital is one of the front runner when it comes to best IVF and Infertility treatment in Mohali. The quality of treatment makes it one of the best IVF Hospital in Mohali with high success rate. Dr. Rimmy singla is the best infertility specialists in Mohali Kharar and best ivf doctor in mohali has an excellence in IVF treatment and offers wide range of infertility solution. She is the best infertility specialist in Mohali kharar with depth knowledge and an advance ART (Assisted Reproductive Technology) lab to provide reproductive success.
Radiance Hospital Mohali ( best IVF hospital Mohali kharar) has multispecialty in women health needs including maternity, gynecologists', infertility, and neonatal care. Radiance Hospital providing the best infertility treatment in mohali at affordable cost with highest IVF success rate.
#bestivfhospitalmohalikharar #bestinfertilitytreatmentinmohali #bestivfdoctorinmohali #bestivfcentreinmohali #bestinfertilityspecialistsinmohalikharar #radiancehospitalmohali