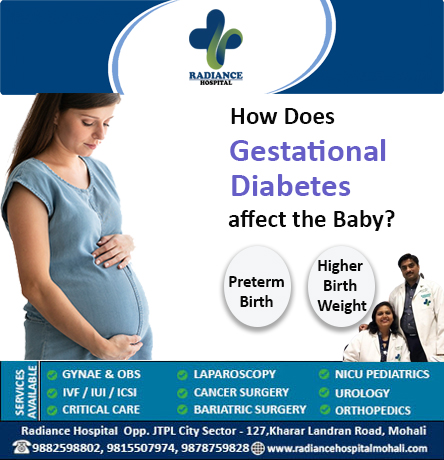 Diabetes is caused due to many reasons and when it is the result of pregnancy it is called gestational diabetes. Gestational Diabetes is a health condition in which the sugar levels in the blood become elevated during pregnancy. Every year it affects many pregnant women. Gestational Diabetes is of two types A1 and A2. While A1 can be controlled through exercise and diet A2 needs medicine and insulin. Usually, gestational diabetes goes away after pregnancy. If left untreated it can affect the baby and also lead to complications in your pregnancy.
Symptoms Of Gestational Diabetes
In general, women go through these symptoms: –
Snoring
Fatigue
Blurred Vision
Eating More Than Usual
More Peeing Than Usual
How does Gestational Diabetes Affect the baby?
It not only affects the mother but can also affect the baby if neglected. The baby may be at increased risk of being obese and developing type 2 diabetes in later stages of life.
Complications of Gestational Diabetes
Chances of being diabetic in future
Preterm Birth
Higher Birth Weight
Radiance Hospital Is the best Hospital in Mohali, Dr. Raman Singla (bestlaparoscopic surgeon in mohali) and Dr. Rimmy Singla (Gynecologist & Obstetrician) at Radiance Hospital, Mohali. They provide the best care during your pregnancy and will be there for you whenever you need it the most.   Dr. Rimmy Singla has solved the most critical high risk pregnancy cases and provides high risk pregnancy care.
#besthospitalinmohali #highriskpregnancycare #bestlaparoscopicsurgeoninmohali