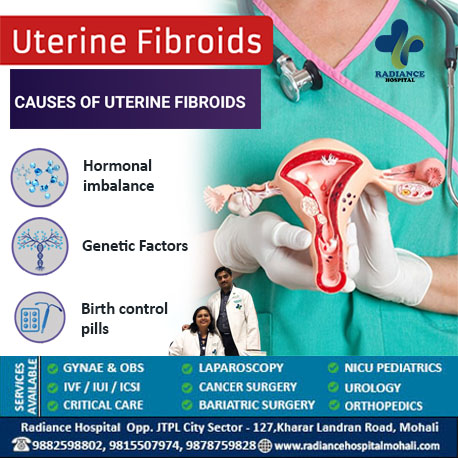 Fibroids are the abnormal growth of muscular tumors on the walls of a woman's uterus. They are smooth muscle cells and fibrous connective tissues.
Most of the time they do not produce any symptoms nor cause problems, and a woman does not even know she has a fibroid unless a doctor finds it during tests.
Out of every three women with fibroids, one woman may experience symptoms. The symptoms may include:
Abnormal uterine bleeding or painful periods
Anemia due to heavy periods
Pelvic pain
Long-lasting menstruation
Pain during sexual intercourse
Pressure or fullness in your lower abdomen
Pressure on the bladder causes frequent urination
Some other possible symptoms
Complications during labor
Pregnancy Problems
Fertility Problems
Miscarriages
Causes of Uterine Fibroids
Usually, Fibroids develop during the reproductive years when estrogen and progesterone levels become higher.
Hormones – Ovaries produce hormones known as estrogen and progesterone, which help to regenerate uterine lining during every menstrual cycle that can stimulate fibroids growth.
Genetics – Genetic changes can also cause tumors
Hereditary – A family history of fibroids can also lead to this condition.
Dr. Raman Singla(laparoscopic surgeon in mohali) and his team try their best to deliver far more than what patients expect. We encourage women to schedule an initial consultation or a second opinion with Dr. Rimmy Singla & Dr. Raman Singla by calling 9882598802, 9815507974, 9878759828 at Radiance Hospital (best hospital in Mohali). Radiance hospital offers you the best laparoscopic surgery in mohali . If you want the best laparoscopy gynecology in mohali, consult our specialist.
#besthospitalinmohali #laparoscopygynecologyinmohali #bestlaparoscopysurgeryinmohali #laparoscopicsurgeoninmohali #symptomsofuterinefibroids