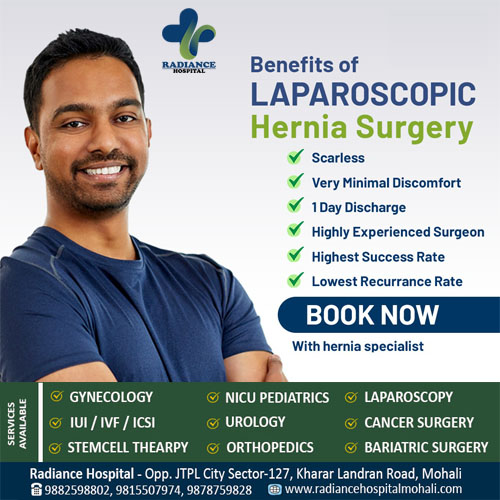 A Hernia is a condition where part of an organ pushes through the opening of the organ wall made up of muscle tissue. The most common site of hernia is the abdomen.
There are basically two procedures to treat hernia:
Open Surgery
Laparoscopic Surgery
Dr. Raman Singla (best hernia surgeon in Mohali)said that Laparoscopic surgery is preferred over open surgery because of its decreased risk of pain, reduced scarring, reduced potential for infection, faster recovery time, and minimal blood loss. Radiance hospital offers the best laparoscopic surgery in Mohali.
Dr. Raman singla (best laparoscopic surgeon in Mohali) is highly skilled and extensively trained hernia specialists. There are advantages of minimal incision laparoscopic surgeries are:
Low risk of infection.
The incisions made are very small
Short hospital time and recovery time
Leaves no scar after Surgery
After the laparoscopic surgery, patients can return to their normal routine much more quickly. Faster recovery indicates getting back quickly to things you enjoy in life such as work, career, and exercise and socialize. While after conventional open surgery, recovery takes a little longer due to pain and soreness around the wound.
Dr. Raman Singla is the best laparoscopic surgeon in Mohali. Contact us at 9882598802, 9815507974, and 9878759828
#besthospitalinmohali #bestlaparoscopicsurgeoninmohali #laparoscopicsurgeoninmohali # Besthospitalmohalikharar #BestHerniaSurgeon inmohali #radiancehospitalmohali