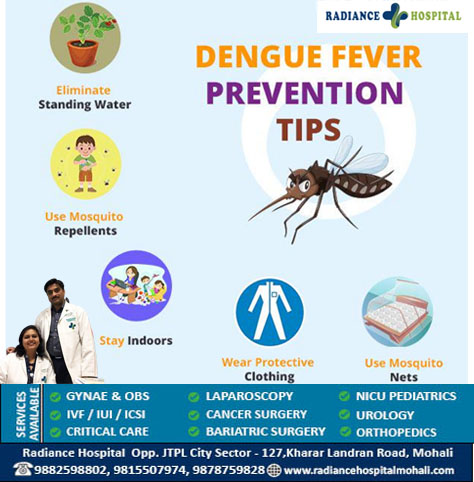 Dengue fever is a viral disease that is spread by mosquitoes. Dengue fever is transmitted to humans through the bites of infected female mosquitoes. The most common symptoms of dengue are fever, headache, pain behind the eyes, muscle and joint pain, and rash. Symptoms of dengue last 2-7 days. Most people will recover after about a week. In some cases, dengue fever can be life-threatening. Severe dengue causes abdominal pain, vomiting, difficulty in breathing. Severe dengue is a medical emergency and can result in internal bleeding and even death. There is no specific treatment for dengue or severe dengue, but early detection and proper medical care lower fatality rates. The spread of dengue fever can be reduced by targeting the mosquitoes that transmit the disease.
How to Protect yourself from dengue
Dispose of waste properly.
Cover, empty, and clean domestic water storage containers regularly.
Use personal household protection such as window screens, coils, long-sleeved clothes.
Apply insecticides to outdoor water storage containers.
Radiance Hospital is the Best Multispecialty Hospital in Mohali, Kharar, Chandigarh. Dr. Raman Singla (best Laparoscopic surgeon) and Dr. Rimmy Singla (best Gynecologist and Obstetrician) at Radiance Hospital Kharar (tricity). Radiance Hospital Provides the dengue treatment. Dengue fever can become severe within few hours. It is very important to take the medical care on time. Radiance Hospital gives you proper dengue treatment.
#treatmentfordengue #besthospitalinmohali #radiancehospitalmohali #bestlaparoscopicsurgeoninmohali