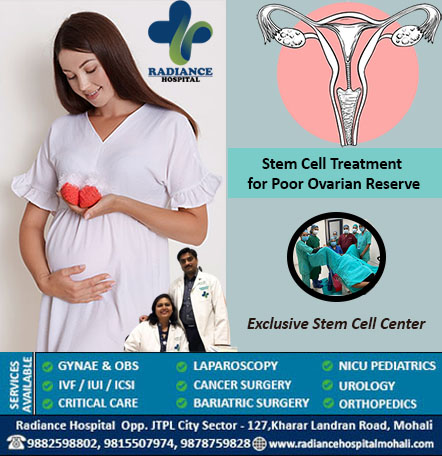 Low Ovarian reserve means the capacity of the ovary to produce eggs has gone down. Your Ovarian reserve is your current egg supply, and it is closely related to your potential to reproduce. In general, the more eggs you have left, the better your chances of conception. So, if you have a low ovarian reserve, it may impact your chances of conceiving.
What are the Causes?
A Woman's age is critical and inversely proportional to ovarian egg reserve, the older you get, the low ovarian reserve you have. But this problem can also affect young women, as it occurs in cases of premature ovarian failure. Other possible causes include medical or surgical treatments like chemotherapy, environmental pollution, unhealthy lifestyle habits and diseases such as endometriosis.
What is AMH?
Blood tests are used to check levels of hormones called AMH (Anti-Mullerian Hormone) which is produced by the follicles in the ovaries, and FSH (Follicle Stimulating Hormone)
Stem cell is a highly trusted and reliable procedure that is based on numerous variety of fertility issues inclusive of ovarian regeneration, oocyte production. Stem cell therapy for female infertility is a common condition.
Radiance Hospital is the best multi-speciality hospital in Mohali, Chandigarh. Dr. Raman Singla (Andrologist and Advanced Laparoscopic Surgeon) and Dr. Rimmy Singla (Gynecologist and Obstetrician & IVF Specialist) offers the various infertility treatments. We Provide you the best Poor Ovarian reserve treatments.
Radiance hospital Mohali provides the best infertility treatment in mohali. Dr. Rimmy Singla (the best IVF & Infertility Specialist) brings many couples a ray of happiness. Contact Us at 9882598802, 9815507974
#besthospitalinmohali #bestpoorovarianreservetreatments #radiancehospitalmohali #bestivfhospitalinmohali #bestinfertilitytreatmentinmohali