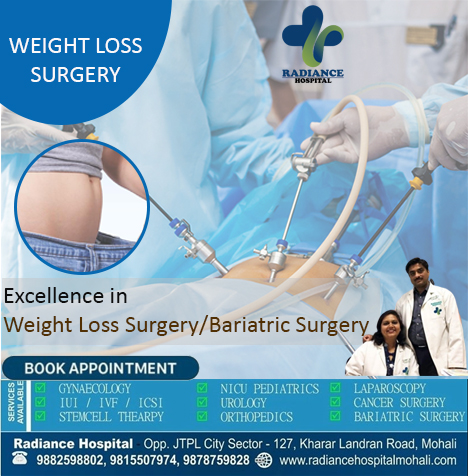 Bariatric surgery is a weight loss option for patients who have been diagnosed with obesity. The surgery will make changes to your digestive system. If you have trouble losing weight by diet, exercise and medication then weight loss surgery will be effective for you. If you have morbid obesity which means you are more than 100 pounds over your ideal weight.
Everyone can't lose weight through diet and exercise. Many health issues like hormonal imbalance, restriction in physical movement due to injury or sickness can make weight loss a tough task. People who are severely obese also have health issues such as type 2 diabetes, elevated blood pressure, sleep apnoea.
Radiance hospital is the best hospital in Mohali offers the best laparoscopic surgery in Mohali. Dr. Raman single (best laparoscopic surgeon) offers various advanced laparoscopic surgeries. Radiance hospital provides the best bariatric surgery or weight loss surgery in Mohali. Our goal with bariatric surgery is to ensure you live a long and happy life.
Dr. Raman single (best laparoscopic surgeon in Mohali) said that "Bariatric surgery can help people lose weight and improve their health problems by making changes to the digestive system. It can make the stomach smaller or change the small intestine so it absorbs fewer calories". 
To know more details, Visit here http://radiancehospitalmohali.com/
#radiancehospitalmohali #besthospitalinmohali #laparoscopicsurgeoninmohali #bestlaparoscopicsurgeoninmohali #bestbariatricsurgeryorweightlosssurgeryinmohali #bestlaparoscopicsurgeryinmohali