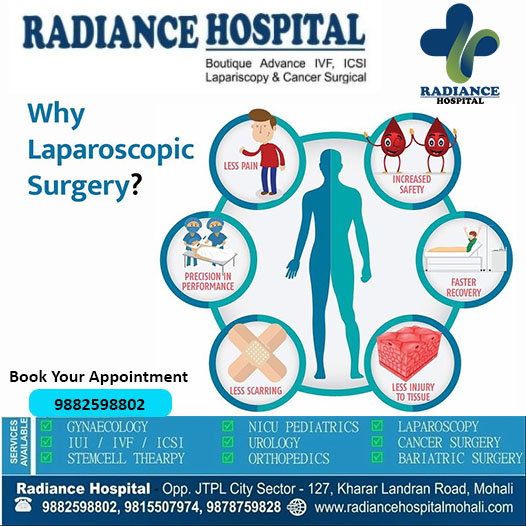 Laparoscopic Surgery is a technique wherein surgical procedures like removal of gallbladder can be successfully done with small keyhole incisions in place of opening up of the abdomen with large incisions. Early return to work, less pain, faster recovery & better cosmetics are the key advantages of laparoscopy. 
Dr. Raman Singla is the best laparoscopic surgeon in Mohali at Radiance Hospital (best hospital in Mohali).   
Dr. Raman Singla specializes in advanced laparoscopic general & bariatric surgery. With an impeccable track record of safety and success. Dr. Raman has performed more than 25000 laparoscopic surgeries; he said that making only small incisions during the procedure, laparoscopic surgery leaves patients with minimal discomfort and fewer complications.
Dr. Raman Singla (best laparoscopic surgeon in Mohali) offers various advanced laparoscopic treatments and the surgery is performed following the basic protocols. Patients get discharged the same day or the very next day. Dr. Raman Singla performs many laparoscopic surgeries every year. According to him through laparoscopy surgery, the recovery will be fast and you will experience less pain. Get the best laparoscopic surgery in Mohali/ Punjab by Dr. Raman Singla (the best laparoscopic surgeon). Radiance hospital offers the best laparoscopy surgery for Removal of gallbladder stones, Hernia treatment, Piles, Appendicitis, Rectal prolapse, Pilonidal Sinus, and advanced laparoscopy surgeries.
#bestlaparoscopicsurgeoninmohali #bestlaparoscopicsurgeryinmohali #besthospitalinmohali