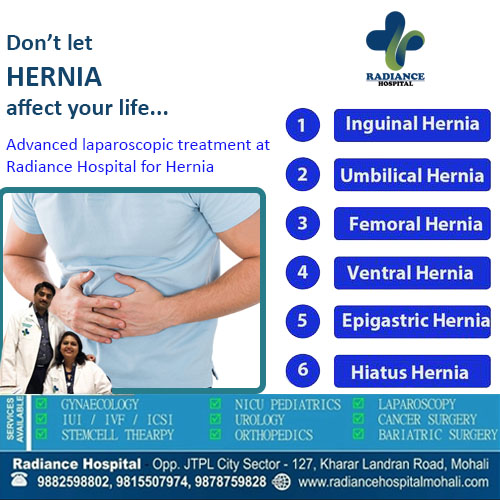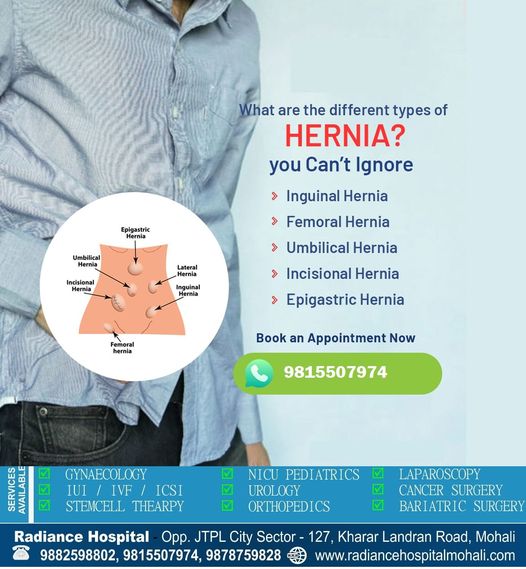 A Hernia happens when an internal organ pushes through a weak spot in your muscle or tissue.
If you have hernias consult Dr. Raman Singla (Best laparoscopic surgeon in Mohali) at Radiance Hospital (best laparoscopy hospital Mohali kharar).
Dr. Raman Singla, Director Radiance Hospital, laparoscopic surgeon in Mohali, said that The body consists of several open spaces and weak thin tissues or spots like around the navel area and around the groin area, the hernia may occur in these regions.
You should not delay any hernia pain.
Here mentioned below types of hernia's
Inguinal Hernia – These typically occur in the inguinal canals, which are located on either side of the groin. 
Femoral Hernia – These are found in the lower groin area, near the upper thigh.
Umbilical Hernia – These occur when tissue or parts of the intestine push through a weak area near the navel.
Incisional Hernia – The cutting and sewing of surgery can weaken a muscle wall, making it more likely a hernia will develop. 
 Epigastric Hernia – An epigastric  hernia happens when a weakness in the abdominal muscle allows the tissues of the abdomen to protrude through the muscle. 
If you have any queries related to above mention hernia or are very confused, what types of hernia do you have? Meet Best Doctor in North India for hernia treatment Dr. Raman Singla (best laparoscopic surgeon in Mohali). They offer the best hernia treatment and best laparoscopy surgery in Mohali.
#bestlaparoscopysurgeryinmohali #herniatreatment #laparoscopicsurgeoninmohali #bestlaparoscopyhospitalkhararmohali #bestlaparoscopicsurgeoninmohali