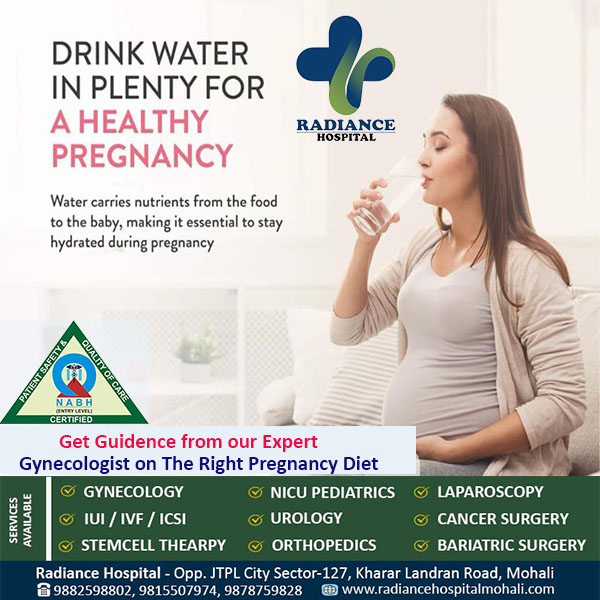 Water plays the vital role of carrying nutrients from the food to the baby, besides preventing constipation, haemorrhoids, urinary tract or bladder infections for the mother. While juices and soft drinks too contribute to the daily fluid intake, their consumption should be moderated given the high amounts of sugar. Consult with our Expert Gynecologist &Obstetricians Dr. Rimmy Singla to know the right diet during pregnancy at Radiance hospital(best maternity hospital mohali kharar).
Why you need to drink more water During Pregnancy?
Water helps in regulating the interbal body temprature.
Drinking Enough Water prevents dehydration.
Water helps prevent urinary infections.
Water helps your body absorb essential nutrients.
Drinking water helps prevent constipation.
Water helps relieve symptoms of morning sickness and nausea.
Dr. Rimmy singla provides the best health care tips to the expecting mothers. Radiance hospital is the best maternity hospital mohali kharar where you will get the best maternity facilities and new born care.
Call 9882698803 to book an appointment.
#besthospitalinmohali #bestmaternityhospitalmohalikharar #bestmaternityfacilitiesandnewborncare #bestmaternityhospitalmohalikharar