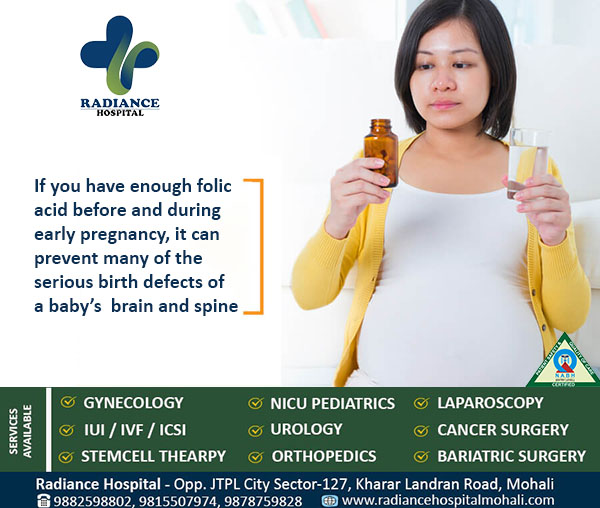 What is folic Acid?
Folic acid is a human made form of folate, vitamin B9. Folate cannot be created by our bodies so we need to get it from our diet. Folic Acid which is also known by the name of vitamin B-9 or folate is a vitamin that is extremely important for everyone but is more important during pregnancy.  Folate deficiency may lead to various health problems in people of all age groups but those females who are folate deficient and become pregnant may have serious birth defects in the baby and hence it is recommended for everyone to incorporate folic acid in their diet. 
Radiance Hospital is the best mothernity hospital Mohali kharar .
In the First month of pregnancy, neural tube defects can occur. They happen when the neural tube, which forms the brain and spinal cord, doesn't develop or close properly.
Prevents birth defects.
Promotes proper brain development.
Prevents low birth weight.
Prevent premature birth.
Protects baby from heart defects.
Reduces risk of pregnancy complications.
At Radiance Hospital you will get the best maternity facilities and newborn care Mohali kharar.
Dr. Rimmy Singla (Gynecologist & Obstetrician ) said that "Folic acid is not only important but also beneficial during pregnancy is due to fact that lack of folic acid results in neural tube defects in the feutus".
Consult our Gynecologist for best maternity care in mohali
Book an Appointment 9882698803 9882598802, 9815507974, 9878759828
#bestmaternityfacilitiesandnewborncaremohalikharar #bestmothernityhospitalmohalikharar #besthospitalinmohali