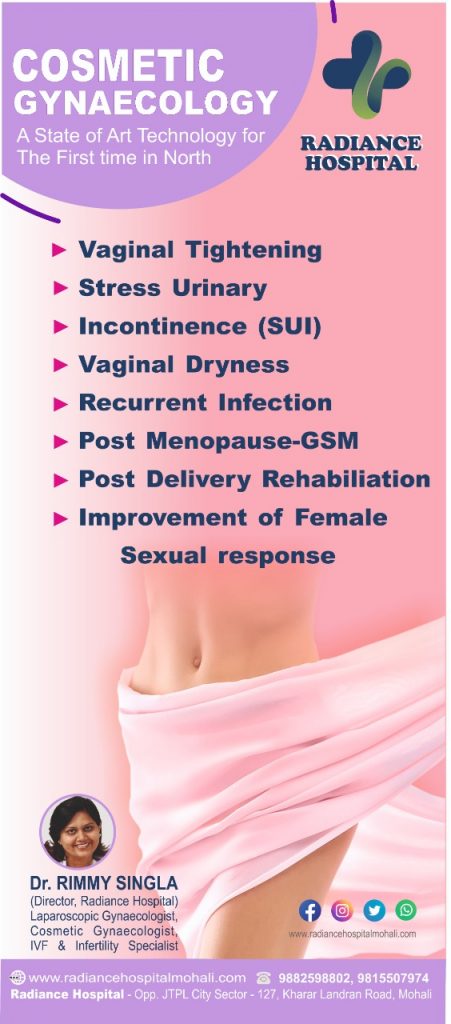 The procedures are a combination of specialties like plastic surgery, gynecology, urology, and urogynecology. The end objective of the process is to help enhance the look of the vaginal area and improve sexual function, which takes a beating due to pregnancy and childbirth. Often, aging has been quoted to be the reason behind structural changes in the vagina. The structural changes of the vulva and the vagina, internal and external, can affect intimate aesthetics and physical gratification levels.
Radiance Hospital provides the best cosmetic gynecology in mohali . Dr. Rimmy Singla is the best cosmetic surgeon in mohali.
Cosmetic Gynecology Procedures
1.Vaginoplasty or vaginal rejuvenation therapy (VR)
Vaginoplasty is a cosmetic procedure wherein the surgeon either repair the vaginal tissues or has perineal muscles tightened or decreases the vaginal width by tightening the tissues. The procedure is also used as reconstructive surgery for treating injuries to the vaginal tissues during labor.
2.Labiaplasty or labia minora 
In this procedure, the labia or the skin folds that form the opening of the vagina is treated.
3.Hymenoplasty
Also known as hymenorrhaphy, it is a cosmetic repair process to construct or restore the hymen in the vaginal area.