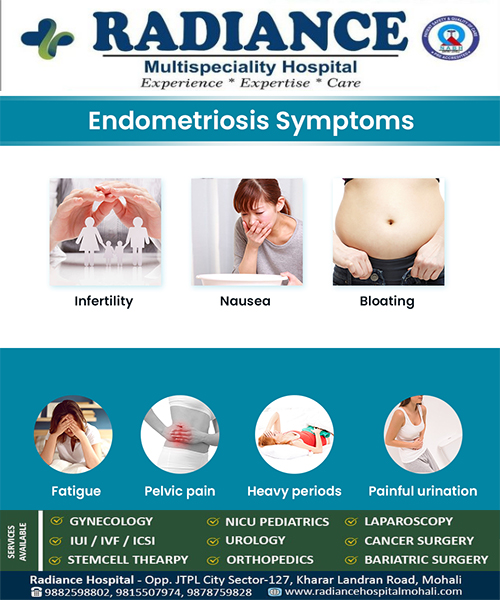 Endometriosis is a disorder in which tissue that normally lines the uterus grows outside the uterus. Endometriosis most commonly involves your ovaries, fallopian tubes and the tissue lining your pelvis. Rarely, endometrial-like tissue may be found beyond the area where pelvic organs are located. Endometriosis can cause pain ,sometimes severe , especially during menstrual periods. Fertility problems also may develop.
Radiance hospital, Mohali, Kharar provides the best laparoscopy gynecology in mohali by Dr. Rimmy singla (Gynecologist & Obstetrician).
Common signs and symptoms of endometriosis include:
Painful periods – Pelvic pain and cramping may begin before and extend several days into a menstrual period. You may also have lower back and abdominal pain.
Pain with intercourse – Pain during or after sex is common with endometriosis.
Pain with bowel movements or urination – You're most likely to experience these symptoms during a menstrual period.
Excessive bleeding – You may experience occasional heavy menstrual periods or bleeding between periods (intermenstrual bleeding).
Infertility – Sometimes, endometriosis is first diagnosed in those seeking treatment for infertility.
Other signs and symptoms – You may experience fatigue, diarrhea, constipation, bloating or nausea, especially during menstrual periods.
Radiance Hospital is well equipped to provide diagnostic and latest procedures like Laparoscopic surgery, minimally invasive surgery and hysteroscopy surgery, best laparoscopic surgery in Mohali.
#radiancehospitalmohalikharar #bestlaparoscopysurgeryinmohali #laparoscopygynecologyinmohali