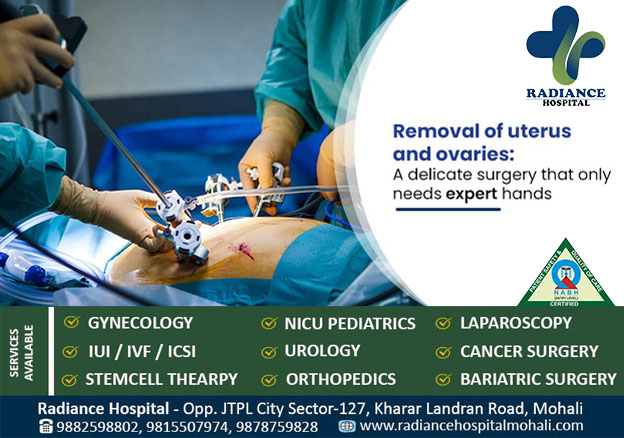 Radiance Hospital Mohali provides the best uterus removal surgery in mohali, kharar. One of the major reasons that lead to the removal of the uterus and ovaries is abnormal uterine bleeding. Many women suffer from this condition. Therefore, the removal of ovaries and uterus becomes highly crucial. The method to do this is Hysterectomy.
Before opting for any form of surgery, consulting a gynaecologist is important as they can help to assess the severity and can suggest whether the surgery is compulsory or not. Dr Rimmy Singla is a best gynecologist & Obstetrician in mohali who provides treatment to those who suffer from different types of gynaecological complications.
Patient Testimonial
Patient Sarabjit Kaur Underwent Laparoscopic Hysterectomy At Radiance Hospital
Watch Our Patient Testimonial Video who underwent Laparoscopic Hysterectomy at Radiance Hospital Mohali, Chandigarh. She underwent surgery of Laparoscopic Hysterectomy at Radiance Hospital Mohali, under Dr. Raman Singla(Advanced Laparoscopic surgeon) & Dr. Rimmy Singla (Gynecologist & Obstetrician). After the surgery patient's shares her views and experience during the treatment. For more details visit. here http://radiancehospitalmohali.com/ or contact us 9882598802, 9815507974,
9878759828 #besthospitalinmohali #radiancehospitalmohali #laparoscopygynecologyinmohali #laparoscopicsurgeoninmohali #bestlaparoscopicsurgeryinmohali #bestlaparoscopicsurgeoninmohali #besthysterectomysurgeoninmohali #bestuterusremovalsurgeryinmohali #besthospitalinmohali #laparoscopygynecologyinmohali
Radiance hospital, Kharar Mohali is now empanelled with Govt. of Himachal Pradesh. Also empanelled with all major TPAs and insurance companies for cashless treatment.