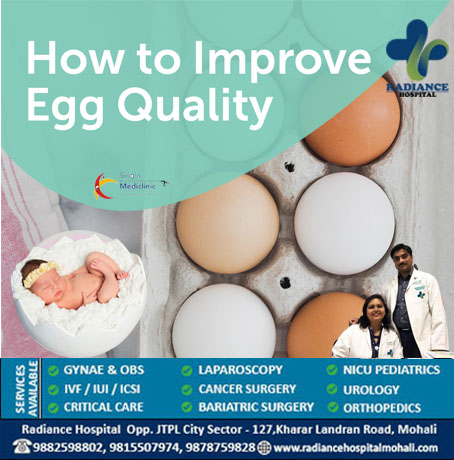 Women are born with around 1 -2 million eggs in their ovaries and this number decreases with age. Unlike men who are always producing new sperm to replenish their sperm count, but females stop making eggs. Women have lost 90% of their eggs when they are 30 years old, and only three percent remain by the time they are 40. Tests can help assess the health of your ovaries and your fertility.
Age plays a very important role in women's fertility. Egg loss is a natural part of aging for people with a uterus. Egg amount is not the only factor when it comes to getting pregnant. Egg quality is also important. Egg quality refers to the likelihood that the egg will grow and implant healthily to the wall of the uterus when it is fertilized. The number of eggs, egg quality also decreases naturally with age. Medical conditions, smoking habits, and cancer treatments also affect fertility.
Radiance Hospital is the best fertility hospital in Mohali, Chandigarh. Dr. Raman Singla (Advanced Laparoscopic surgeon & Andrologist) and Dr. Rimmy Singla (Gynecologist &Obstetrician) at Radiance Hospital Mohali, Chandigarh (Tricity). If you are facing any fertility issues, consult our fertility specialist Dr. Rimmy Singla (Gynecologist & Obstetrician).
#bestfertilityhospitalinmohali #Eggquality #bestinfertilitytreatmentinmohali #bestivfhospitalinmohali #bestivfdoctorinmohali